Mums@PLAY believes in the power of collaboration. Women helping women find the right ground. As a support system for our mompreneur and women entrepreneurs community, Mums@PLAY conducts workshops run by people in different professions, in order to guide, train and empower mums and 'mumtrepreneurs' and more importantly motivate them to follow their passion, to secure them with a confidence in their abilities, which would enable them to lead a balanced healthy life working around their priorities and their family.
Social Media Special – Workshops for Small Businesses
Facebook Ads -Jan 21, Instagram for Business – Jan 22 at Paperclip Entrepreneur Campus, 3/F Nam Wo Hong Building, 148 Wing Lok Street, HK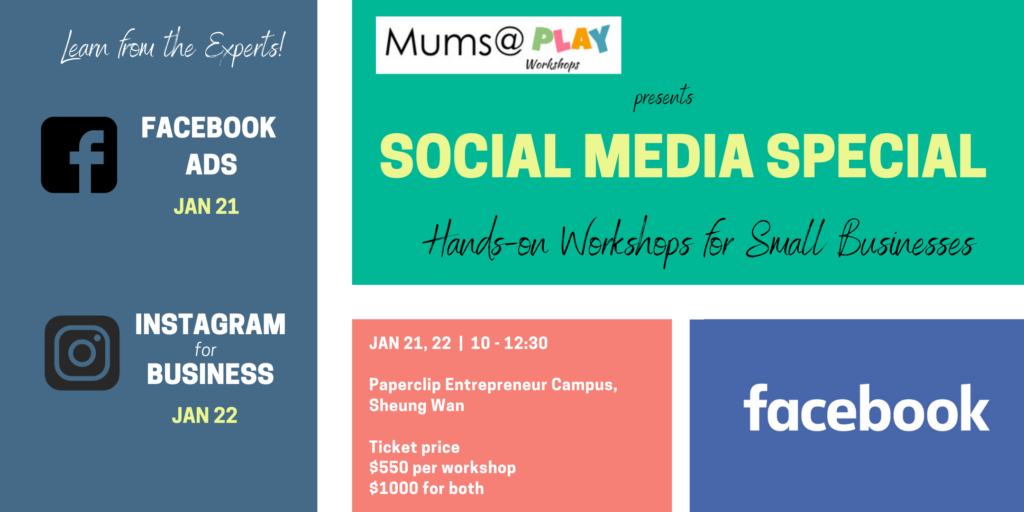 FACEBOOK ADS
Tuesday, January 21 | 10-12:30
What is this workshop about?
This practical hands-on workshop is about creating a successful Facebook campaign targeting your specific audience to promote and grow your business.
Who is this workshop for?
Small business owners, 'mompreneurs,' anyone who wants to learn more about FB Ads. Basic requisite: Knowledge about Facebook Page, a small marketing budget
What would it cover?
-Introduction to Facebook Advertising
-Difference between FB Ads and 'Boost' posts
-Targeting and micro-targeting your specific audience
-Creating a unique and engaging FB Ad – practical step-by-step guide
-Dos and Don't and helpful tips
About the Speaker
Elizabeth Loennborn – Digital Marketing & Stratgey Consultant and a mother to twins. She is one of the original growth hackers and has over 17 years of experience in monetisation and digital product innovation. She has worked in the US and Europe before moving to Hong Kong eight years ago. Since then she has been working with small businesses in Asia and Middle East, specialising in social media and content marketing.

INSTAGRAM FOR BUSINESS
Wed, January 22 | 10-12:30
What is this workshop about?
A practical workshop to get started, enhance or revamp your Instagram for Business account.
Who is this workshop for?
Small business owners, 'mompreneurs,' anyone who wants to learn more about and build their business on Instagram.
Basic requisite: Existing personal and/or business account on Instagram
What would it cover?
-Basics of getting started with an Instagram for Business account
-How to write your profile and identify your brand look
-How to write a post, frequency of posting, how to identify and use hashtags #
-How to grow your account through organic followers
-How to connect with others through engagement
-Understanding insights, NameTag and Discover people
-Useful hints and tips
About the Speaker
Nicole Graham is HK's leading expert in virtual support. Following a successful career as an Executive Assistant to C-Suite execs and then as a Corporate Learning & Development & HK Manager, Nicole has been a driver in using technology to improving efficiency. Starting out teaching business owners how to use their computer software, and then freelancing as a Virtual Assistant, Nicole developed Bauhinia Solutions into a boutique business support agency and now leads a team in HK, UK and Australia. Nicole and her team have supported and driven growth remotely for more than 100 clients woldwide since 2007.
WORKSHOP FEES
HK$550 per workshop per participant
HK$1000 for both workshops
Includes
-An intensive hands-on workshop with our qualified experts
-Tea/coffee for all participants
Register for our Facebook Ads workshop
Register for our Instagram workshop
FAQs
What can I bring into the event?
A fully charged laptop or ipad (for Facebook Ads). A mobile phone (for Instagram). A notepad and pen in case you wish to take notes.
Is my registration fee or ticket transferrable?
Yes. In case you can't make it you can transfer the ticket to a friend but only after our prior approval.
What's the refund policy?
We regret but we do allow any refunds.
How can I contact the organiser with any questions?
For any questions regarding the workshops you can contact us on mehroo@mumsatplay.com
+++++++++++++++++++++++++++++++++++++++
Breakfast Networking Meet
Come and join us for a healthy, productive morning sharing, learning and connecting with like-minded women entrepreneurs.This meet is for all women entrepreneurs at all levels of entry into business. If you are new – LEARN, if you are experienced – SHARE, anywhere in between just NETWORK!
DATE: 27/08/2019
TIME: 9:30AM – 12:00PM
VENUE: Le Meridien, Cyberport
EVENT FEE: HK$ 280 per participant (includes continental breakfast by Le Meridien)
SIGN UP at https://www.eventbrite.com/e/breakfast-networking-women-entrepreneurs-meet-registration-67632650077
Facebook event page: https://www.facebook.com/events/908692529469555/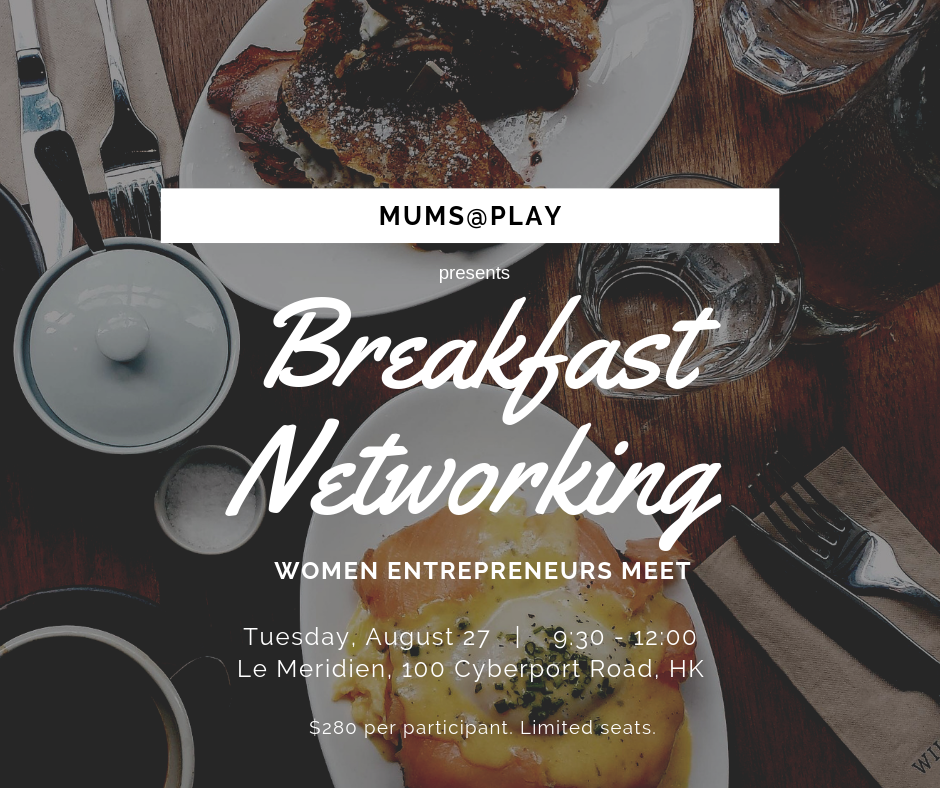 ++++++++++++++++++++++++++++++++
How to start your own Business in HK
An informative and interactive two-hour session with our highly qualified and experienced speaker who will take you through the steps of starting and running your business in Hong Kong.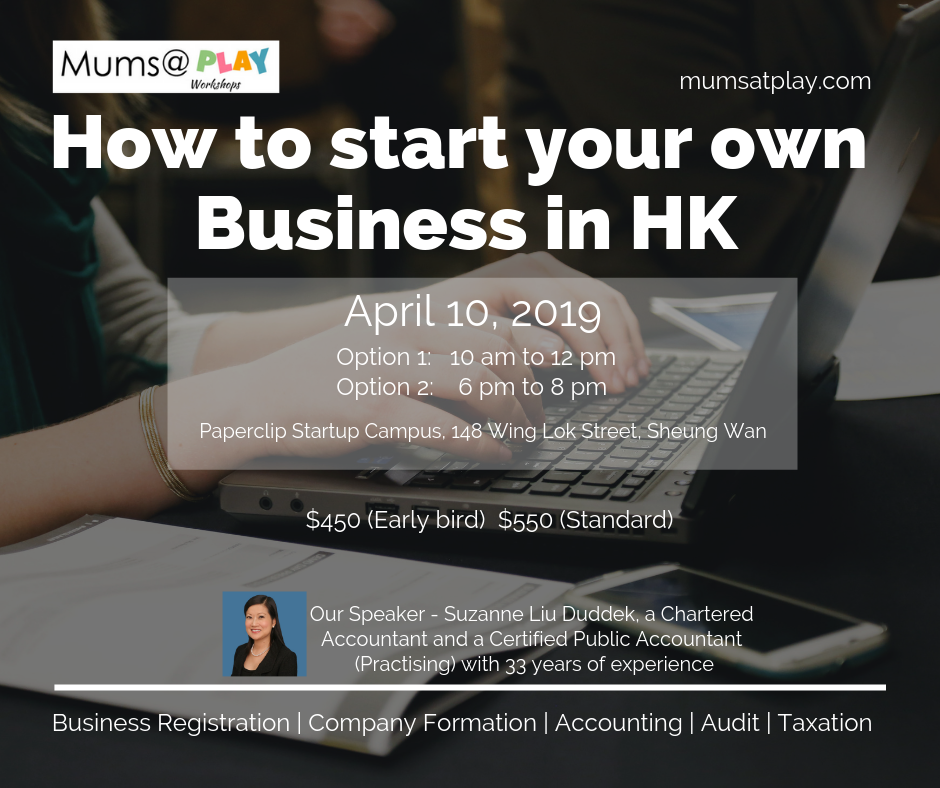 When?
Wednesday, April 10, 2019
Option 1: 10 am to 12 pm
Option 2: 6 pm to 8 pm
You can choose any time option as per your convenience.
Where?
Paperclip Startup Campus
3/F, Nam Wo Hong Building 148 Wing Lok Street Sheung Wan, Hong Kong
Event Fee?
$450 (early bird until April 6)
$550 (April 7 onwards)
Limited seats available on a first-come-first-served basis. Same price for both morning and evening options.
Includes tea / coffee!
What is this talk about?
How to start your own business in HK.
Who is it for?
Anyone who would like to start a business in HK.
What would it cover?
Company Formation
Business Registration
Types of companies
Legal setup of Business
Accounting
Audit
Taxation and Tax Returns
HK Laws
About the Speaker
Suzanne Liu Duddek was born in Dublin, Ireland, and was brought up in Sydney, Australia. She arrived in Hong Kong in 1988. She graduated from the University of Sydney with a Bachelor of Economics Degree. She is an Australian Chartered Accountant and a Hong Kong Certified Public Accountant. Suzanne has 33 years of audit and tax experience. She has been running her own firm for 25 years, and has 15 employees.
Sign up by clicking on this link:
https://www.eventbrite.com/e/how-to-start-your-own-business-in-hk-registration-59208382867
For any further queries contact mehroo@mumsatplay.com