The 4th Mums@PLAY Bazaar
When: Wednesday, June 14   10:30 am to 6:30 pm
Where: Shop 208, The Arcade, 100 Cyberport Road, Pokfulam
What: The friendliest bazaar in town! Our team of "mumtrepreneurs" offering a varied selection of products from summer dresses to beach cover-ups to jewellery to gift items perfect to prepare you and your family for your summer holiday!
This time we had some new exciting tie-ups with Baumhaus having Kindermusik for the little ones and with Sense of Touch to give those tired mamas a quick fix massage before they headed for some retail therapy and not to forget El Charro's chilled Margaritas on a Buy 1-Get 1 FREE offer!
The exciting Lucky Draw prizes offered generously by our own mum-vendors and even some other brands like a FREE Holiday Voucher by Faust and a $200 by 'Its for my baby' were much coveted by the crowd and received with a lot of happiness and appreciation.
"Great selection of vendors!" "Excellent venue!" "It's so much fun!" were just a few of the comments received by the crowd. Read more Testimonials here.
See our full list of vendors here.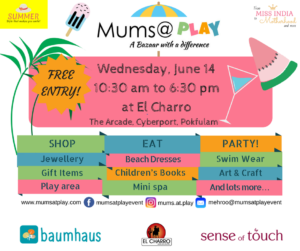 The 3rd Mums@PLAY Bazaar
Our third bazaar was held on Friday, March 3, 2017 once again in the vibrant interiors of the Mexican restaurant El Charro at Cyberport. It was a day filled with fun as our group of enterprising vendor-mums displayed and sold their hand-made, locally sourced and ethically produced products. Hand-painted bags and tees, beautiful pashmina shawls from India, personalised stationery, baby diaper bags and accessories, wooden toys, hand-crafted and 18k diamond jewellery, home accessories, children's books, Moroccan essential oils, pure leather bags, fashionable kaftans and summer dresses and even a travel portal – filled up the colourful and vibrant interior of El Charro! We had Lucky Draws every hour with our top prize of a Faust gift voucher plus many more prizes generously donated. We also had a 'Be the Best You' corner where experienced stylists, Anaitha Nair (hair stylist), Malini Hemlani (image consultant) and Rimi Sachdeva (make-up artist) offered free consultations on hair, skin, make-up and general attire to our lovely  guests! The foot-tapping Mexican beats, sangrias flowing and laughter of the crowd added to the mood of our bazaar! Come take a look at the event captured in beautiful pictures by our professional photographer – Ishika Roy. Meet our vendors here.
Our second bazaar was held on Wednesday, October 5, 2016 in the friendly environment of El Charro. Our venue looked more like a party zone than a restaurant with all the beautiful stalls set up with unique and colourful products by our mum-vendors. We would like to thank all our guests and visitors who made it a grand success! We would also like to thank the members of the 'Indian Mums in HK' Facebook group for celebrating their Anniversary Lunch with us, adding an ethereality through their dress in white code and a gaiety through their colourful expressions and language. The mix of nationalities, the riot of colours, the casual setting, the exceptional service, the banter, the cheers, the enthusiasm and the passion truly makes this bazaar – a bazaar with a difference! Read some of our Testimonials here or click on the Picture Gallery to watch the action!
Here's who attended –
Mrs. Smita Agrawal, wife of Mr. Puneet Agrawal, Consul-General of India

Mrs. Pushpa Narayan, wife of Mr. Narayan Singh, Consul (HOC)
Ms. Shalini Melwani, Director, Shopping Hong Kong
Ms. Karman So, Advertising and Marketing Director, Time Out, HK.
Ms. Neha Pathak, Founder, A Desiflava Magazine
All our mum-vendors and many more dignified personalities in the form of work-at-home-mums, stay-at-home mums, working mums and more!
Click here to see our Media Partners.
Our 1st 'Bazaar with a difference' was held on May 25, 2016 at the Mexican cantina El Charro at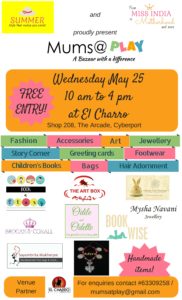 Cyberport, which with its eye-catching interior featuring bright reds and oranges brought to life the friendly stalls, the Indian Mums in HK lunch event and the combined social gathering! It felt more like a party than a Bazaar. Read what our media partner Jumpstart had to say about us here. Jumpstart is Hong Kong's first (and only) print magazine dedicated to startups and the entrepreneurial community. Click on our Picture Gallery to see the action or read the testimonials from our vendors, customers and partners.